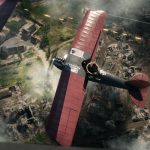 ---
Battlefield 1: What You Will Get With Play First Trial
Battlefield 1 release date is approaching fast. So more news appears regarding the game's PC and Xbox One Play First Trial that will be available for those who subscribed EA or Origin Access.
Play First Trial will be 10-hour length and it will be available for PC and Xbox One users from October 13. This will be a week before the Battlefield 1 will be officially launched. Play First Trial will be reachable for those who subscribed EA and Origin Access. Trial version will have 5 maps and 4 modes while the full Battlefield 1 version is expected to have 9 maps and 6 modes in general. So let's take a brief look at them. Play First Trial version of Battlefield 1 will include these five maps: Amiens, Sinai Desert, Suez, Fao Fortress and St. Quentin Scar. It will also have these four modes: Conquest, Operations, Rush and Domination. The full version of the Battlefield 1 will have these four maps added: Monte Grappa, Empire's Edge, Ballroom Blitz and Argonne Forest. Battlefield 1 will also have these two modes added to the game: Team Deathmatch and War Pigeons.
While playing Play First Trial, you don't have to worry that your progress might disappear. All your evolution in the game (both for single-player and multiplayer) will be carried forward. EA and Origin Access subscribers also get 10 percent off the upcoming Battlefield 1 game price. So they will have a chance to purchase a full game for $54 instead of paying $60 for it.
Moreover, all players who will be playing Battlefield 1 using Play First Trial during a period of October 13-20 will receive a Trench Raider dog tag. What is even better, to get this dog tag, players will not have to do some tasks or assignments, the only things to do, is simply to log in. And those, who will play Play First Trial for all 10 hours in total before October 20, will get a Battlepack for the full Battlefield 1 game.
Deluxe edition for Battlefield 1 will be also available for $80. This edition will be reachable from October 18. Since this day, the rest of the maps and modes will appear in Play First Trial for Battlefield 1. However, if you have already used your 10 hours of play until that day, you will not be able to see them.
EA Access is available for both monthly and yearly subscriptions. Subscription for 1 month will cost you $5 while those, who will decide to purchase an early EA Access, will have to pay $30. However, Origin Access is only available monthly with a price of $5. It is also known that none of the versions is suitable for PlayStation 4 at the moment.
Beta version for Battlefield 1 reached 13.2 million players, beating a record that EA beta had with Star Wars Battlefront with nine million players.