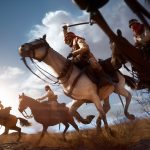 ---
Battlefield 1 Rating Announced With Details About The Game
New trailer for the upcoming Battlefield is expected to be announced today. It will be based mainly on the WWI shooter's campaign. Moreover, a rating for the Battlefield 1 was published by ESRB featuring information about the single-player script and some details about the characters that will appear in the game.
The game description states that the plot of Battlefield 1 will be based in different locations during the Great War. Game players will have a plenty of options to choose, regarding to the characters. They will have an option to be an armor crewman, a fighter pilot, a "message-runner" and a rebel fighter. Battlefield 1 players will choose these characters as the game script develops. Unfortunately, no more information, regarding these characters, was given in the ESRB description.
Battlefield 1 was rated M (for Mature) in the rating. This fact was no surprise as the game is based on such theme. Some weapons were also mentioned in the game description of Battlefield 1. Players will be able to use such weapons as machine guns, grenades, pistols and rifles. All of these will be used in a realistic battle of Battlefield 1: "Battles are highlighted by frequent gunfire, cries of pain, and explosions. Some sequences depict enemies wielding flamethrowers; soldiers can be heard screaming while engulfed in flames. Players can also use knives or bayonets to stab enemies in stealth attacks. Splashes of blood can be seen when enemies are hit; one sequence depicts blood and corpses on a beach after a battle. The word 'f**k' appears in the dialogue."
We are still waiting for the official Battlefield 1 trailer to be released later today by EA. However, game producers haven't mentioned any exact time so there is still not known when we can expect it to arrive.
Battlefield 1 is planned to be released on October 21. The game will be available for PS4, Xbox One and PC. Members of EA or Origin Access will have an opportunity to start playing the game earlier than other, on October 13. Also, gamers that purchased Early Enlister edition of Battlefield 1 will get the access to the game on October 18.