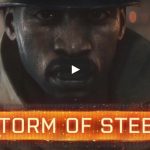 ---
Battlefield 1 Single-Player Gameplay: 12 Minutes Of Harsh Fight
We already saw a first trailer for Battlefield 1's single-player last week but the newest gameplay that EA released today gives a completely different and wider view of the game and the WWI as well.
Battlefield 1 single-player mode gameplay starts with some numbers and facts about World War I to consider: "More than 60 million soldiers fought in 'The War to End All Wars.' It ended nothing. Yet it changed the world forever. What follows is frontline combat. You are not expected to survive." This information is shown before the game begins and it gives some sort of understanding on what the game would look like.
This gameplay video shows a part of the Storm of Steel mission which is extremely intense and full of pressure. Every time when your character dies, a name of a soldier appears in the screen with its birth and death dates. So as different names appear you can understand how many people were affected and dead in the World War I.
Storm of Steel mission that is shown in the Battlefield 1 gameplay is also available in EA/Origin Access Play First Trial. So if you wish to try it out earlier, get a subscription and start playing on October 13.
One of the main points on how Battlefield 1 is different from the previous Battlefield games is that its single-players campaign includes various playable characters for every of the five "War Stories". EA already explained this decision in one of their previous interviews with the following statement: "We felt that to have one character hopping through those different settings wouldn't be as immersive or totally respectful to the setting."