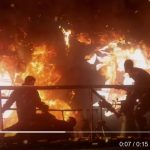 ---
Battlefield 1: Newest Video Shows Lawrence of Arabia
Battlefield 1 single-player mode will have five different "war stories", including multiple characters for each of them. One of these stories involves a Bedouin fighter cooperating with the legendary Lawrence of Arabia. Video, containing images from Lawrence of Arabia mission was released by EA recently.
The video shows a Bedouin woman who is looking for information on the train that she saw in the Sinai desert map. She is talking to a person who somehow reminds Lawrence of Arabia. That person calls Bedouin woman alluring and suddenly gets hit in the face for these words.
The chapter which includes Lawrence of Arabia is named Nothing is Written. There are also four other "war stories" remaining in Battlefield 1. These are named as: The Runner, Through Mud and Blood, Avanti Savoia and Friends in High Places. The main reason why EA decided to include such diverse missions in Battlefield 1 was to show more of the details from World War I that we all know not much about.
Lead designer of Battlefield 1 Daniel Berlin once commented on this topic, giving a deeper view into the reasons for such decision: "When we set out on this game, we wanted to depict not just the common view of what the war was like. We wanted to challenge some preconceptions. We want to delve into some of the unknowns of WW1. Maybe people don't know that this person fought or that person fought, that this army was involved. We're stretching out and bringing all those stories into the game."
Battlefield 1 is planned to be released on October 21. World War I shooter game will be available for Xbox One, PS4 and PC. Those, who want to start playing the game earlier, could become an EA/Origin Access member and start playing Battlefield 1 on October 13. Game fans, who bought Early Enlister Edition, will get the access to the game on October 18.
Experience the war to end all wars.
Watch the full #Battlefield 1 Single Player trailer: https://t.co/cKvEOt7kAG pic.twitter.com/0VzAXJwGCd

— Battlefield (@Battlefield) September 27, 2016