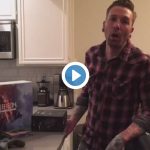 ---
Battlefield 1: Unboxing Xbox One S $350 Military Green Model
As you probably already known, Microsoft and EA joined their forces in order to create a special-edition Xbox One S consoles for the upcoming Battlefield 1. The release date of World War I shooter game is approaching fast so Battlefield 1 community manager Dan Mitre already shared an unboxing video that showcases the system and all the goodies that comes along.
Dan Mitre shows a $350 1 TB military green model of Xbox One S. This set includes a specially designed controller and a digital copy of the Early Enlister Deluxe Edition of Battlefield 1. You will also see an Xbox One Elite controller in the video but be aware that unfortunately, it doesn't come with this arrangement.
Xbox One S console also features DLC of the Red Baron Pack, The Lawrence of Arabia pack, The Hellfighter Pack and a new visual display of Behemoth vehicles. Moreover, this military green console also includes 5 Battlepacks and an EA Access subscription for one month.
The special Xbox One S military green console will be on sale from October 18 in Australia, New Zealand and Canada. The Early Enlister edition for Battlefield 1 will also be available from October 18 and will cost $80. This assortment will reach Europe on October 13 so people who have an EA Access subscription will be able to start playing the game from that day. The Play First Trial of Battlefield 1 will go live on Xbox One the same day as well.
This new specially designed Xbox One S console for Battlefield 1 is just a piece of the special systems that Microsoft created for the release of Battlefield 1. AS Microsoft is a co-marketer for Battlefield 1, the company also created a $300 bundle that includes a white Xbox One S and a digital copy of the World War I shooter game. There will be another 500 GB bundle in storm grey. This Battlefield 1 themed bundle will cost $300 but it will not be available until November 1. Moreover, it will only be sold particularly at Microsoft Store and Walmart.
A video, showcasing a 12-minute single-player gameplay of Battlefield 1 was also released recently. Battlefield 1 will have 5 "War Stories" featuring five different playable characters for each of them. This is quite a new thing for the game as the previous versions of Battlefield only had one playable character. EA already commented their decision to include five multiple playable characters: "We felt that to have one character hopping through those different settings wouldn't be as immersive or totally respectful to the setting."
Battlefield 1 is planned to be released on October 21.
You need to hold one of these…@Xbox #Battlefield1 pic.twitter.com/ML4uspnOHn

— Dan Mitre (@dan_mitre) October 1, 2016