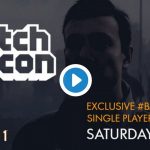 ---
First Livestream of Battlefield 1 Single-Player Gameplay Is Along The Away
Save the date. The first livestream of Battlefield 1 Single Player gameplay is coming: https://t.co/6DHrILXDDU pic.twitter.com/FaRsFLV42p

— Battlefield (@Battlefield) September 29, 2016
Battlefield 1's development studio announced that they are going to show more visuals on the upcoming game soon. The company announced on Twitter that they are planning to showcase the first livestream of single-player gameplay mode during the event on October 1. Such news was announced with the following tweet: "Save the date. The first livestream of Battlefield 1 Single Player gameplay is coming."
The livestream of Battlefield 1's single-player is planned to take place on the official TwitchCon event page. It will star at 1 PM PT / 4 PM ET.
Battlefield 1 single-player campaign features a number of different places, starting from the deserts of the Middle East and the snowy Alps. The upcoming WWI shooter game will have 5 main "war stories". One of these stories even includes the well-known Lawrence of Arabia.
Battlefield 1 will have a multiplayer mode as well. Some of the game fans were lucky enough to try it out during a beta. This beta version of Battlefield 1 was great success as it reached more than 13 million people involved. Such impressive number even beat the record that Star Wars Battlefront had with 9 million players.
Battlefield 1 is planned to be released on October 21. However, EA/Origin Access subscribers will be able to play it more than a week before the official launch.